2018 Sandbox Percussion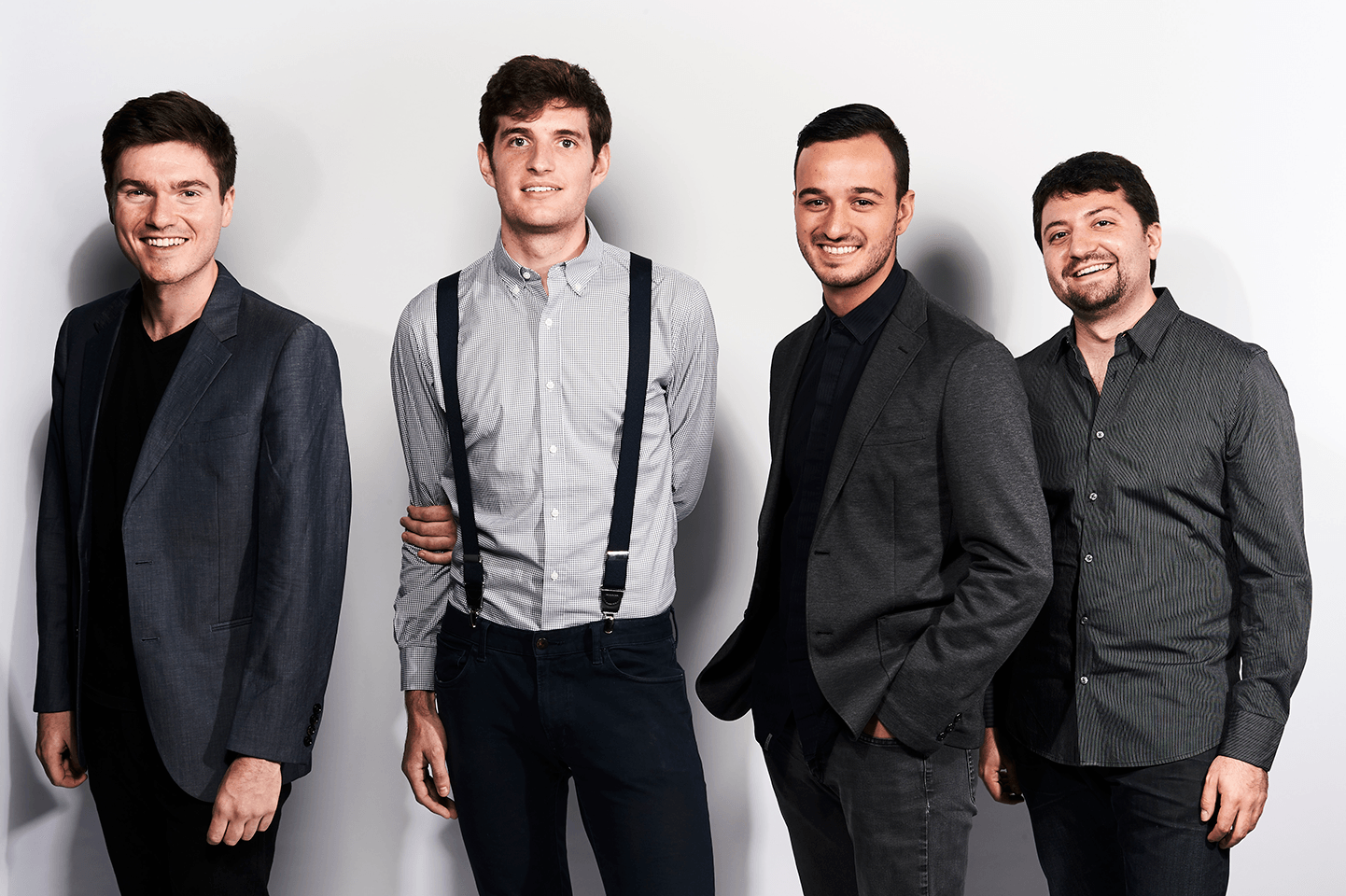 Colonels Row
1:00PM & 3:00PM
May 20, 2018
Lauded by The Washington Post as "revitalizing the world of contemporary music" with "jaw dropping virtuosity," and "a bombshell of raw-talent" by I Care if You Listen, Sandbox Percussion has established themselves as a leading proponent in this generation of contemporary percussion chamber music. Brought together by their love of chamber music and thesimplejoy of playing together, Sandbox Percussion captivates audiences with performances that are both visually and aurally stunning. Through compelling collaborations with composers and performers, Jonathan Allen, Victor Caccese, Ian Rosenbaum and Terry Sweeney seek to engage a wider audience for classical music.
Last season Sandbox Percussion presented 35 performances throughout the United States. During a tour through California they gave the world premiere of Thomas Kotcheff's percussion quartet ​not only that one but that one & that too, ​ and were presented on the Festival of New American Music in Sacramento, CA. In collaboration with Ensemble HOWL they gave the world premiere of Amy Beth Kirsten's ​Quixote ​ at Montclair State University's Peak Performances concert series. During the American Music Festival at the Experimental Media and Performing Arts Center (EMPAC) in Troy, NY, Sandbox gave the world premiere of a concerto by Viet Cuong entitled ​Re(new)al ​ along with the Albany Symphony. During the festival they also gave a recital which featured works by American composers Steve Reich, Christopher Cerrone, and David Crowell.
In addition to keeping a busy concert schedule Sandbox has also participated in various masterclasses and coachings at schools such as the Peabody Conservatory, Curtis Institute, the University of Southern California, Kansas University, Cornell University, and Furman University. While there they coached students on some of the most pivotal works in the percussion repertoire including Steve Reich's ​Drumming, György Ligeti's, Síppal, dobbal, nádihegedüvel and John Cage's ​Third Construction. These teaching experiences have inspired the quartet to pursue a role of pedagogy and mentorship for today's young generation of musicians. This season Sandbox Percussion will present the second annual NYU Sandbox Percussion Seminar. This week long seminar invites percussion students from across the globe to rehearse and perform some of today's leading percussion chamber music repertoire. A culminating performance is held at the iconic Brooklyn venue, National Sawdust.
Most recently has marked the quartet's growing interest in composition. Last season Jonathan Allen's ​Sonata and Victor Caccese's ​A Part, Apart were featured on ten separate programs throughout the U.S. Sandbox also worked closely with composer David Crowell on a marimba arrangement of his saxophone sextet, Point Reyes. They gave the world premiere in November 2014 in Brooklyn, NY.
This season Sandbox will collaborate with The Industry, an opera company in Los Angeles, for the world premiere of​ Galileo, a 90-minute theatre piece by Andy Akiho. Other highlights will include a ​performance of Jerome Begin's ​Wilderness in collaboration with the Brian Brooks Moving Company at Choregus Productions in Tulsa, OK, the first ever percussion quartet concert at the Cosmos Club in Washington, DC, ​a performance of Gyorgy Ligeti's ​Síppal, dobbal, nádihegedüvel with mezzo-soprano Elspeth Davis at the Percussive Arts Society International Convention in Indianapolis, IN, and a second west coast tour including 11 performances from Seattle to Los Angeles. Sandbox Percussion endorses Pearl/Adams musical instruments, Vic Firth drumsticks and Remo drumheads.
Program
bell patterns by Victor Caccese (1989) 5′
Sonata by Jonny Allen (1989) 7′
Pillar IV by Andy Akiho (1979) 11′
Anatomy of a Drum Roll by Alex Weiser (1989) 6′
Karakurenai by Andy Akiho 5′
Drumming by Steve Reich (1936) 16′
c. 50 minutes
Performers
Ian Rosenbaum
Jonny Allen
Terry Sweeney
Victor Caccese
Learn more about Sandbox Percussion here.
Note: In the event of poor weather conditions, all concerts will be scheduled for the following day, Sunday at 1 and 3PM.