Curtis Stewart
Nolan Park
1:00PM & 3:00PM
Jul 16, 2022
Rite of Summer does not require tickets or reservations.
Ticket reservations are recommended for the Governors Island ferry. Please note that masks continue to be required while boarding, riding, and disembarking. View the schedule, get more information, and reserve your tickets at govisland.com.
Program
Featuring music of Alice Coltrane, Johannes Brahms, Greek Folk Tunes, Duke Ellington, Henry Purcell, The Killers: Brightside, Bill Withers, JS Bach, Kendrick Lamar / Thundercat, and Curtis Stewart.
of Love
A follow up to his GRAMMY Nominated album OF POWER – a set of works to cherish all the time we live through. If the push and pull of social and financial responsibility structure life, the aesthetic loves, personal passions, familial cares and social worries keep us tethered to it – These works tap into the visceral sensation of holding and loss – the loss of a mother, the gain of a partner, the search for love in urban settings and all the ways we grasp onto this life of ours.
These works celebrate the sense of holding on and perseverance.
About Curtis Stewart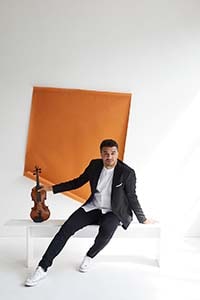 Multi-GRAMMY nominated violinist CURTIS STEWART enjoys an eclectic career bouncing between various realms of music: from MTV specials with Wyclef Jean and sold out shows at Madison Square Garden with Stevie Wonder, Bruce Springsteen, and Seal, to stints at the Kennedy center with the Jimmy Heath Big Band and performance installations at the Whitney Museum, the Guggenheim Museum, and Museum of Modern Art in NYC.
Curtis has performed as a classical soloist at Lincoln Center, and Carnegie Hall, as a special guest soloist/curator with the New York Philharmonic "Bandwagon," solo violin at the 64th Annual.
GRAMMY Awards, held chamber music residencies at the Metropolitan Museum of Art, National Sawdust, and appearances at the Newport Jazz Festival. His ensembles PUBLIQuartet and The Mighty Third Rail realize a vision to find personal and powerful connections between styles, cultures and musics. Curtis has worked with today's forward thinking musicians including Henry Threadgill, Jessie Montgomery, Alicia Hall-Moran and Jason Moran, Mark O'Connor, members of International Contemporary Ensemble, Billy Childs, Diane Monroe, the JACK quartet, members of Snarky Puppy, Don Byron, Linda Oh, Ari Hoenig, Matt Wilson, among many others.
An avid teacher, he has taught Chamber Music and "Cultural Equity and Performance Practice" at the Juilliard School, Directed the Contemporary Chamber Music program at the Perlman Music Program, served on the Board of Concert Artist Guild, Directed several orchestras and all levels of music theory at the Laguardia High School for Music & Art and Performing Arts for ten years, and is currently the Chamber Music and New Juilliard Ensemble Manager at the Juilliard School, in New York City. Curtis graduated magna cum laude from the Eastman School of Music with a BA of Mathematics from the University of Rochester.
Note: In the event of poor weather conditions, all concerts will be re-scheduled for the following day, Sunday at 1 and 3PM. Please check our website for this updated information.
Upcoming Events
Check back soon for more events.