Rite of Summer Music Festival Summer 2018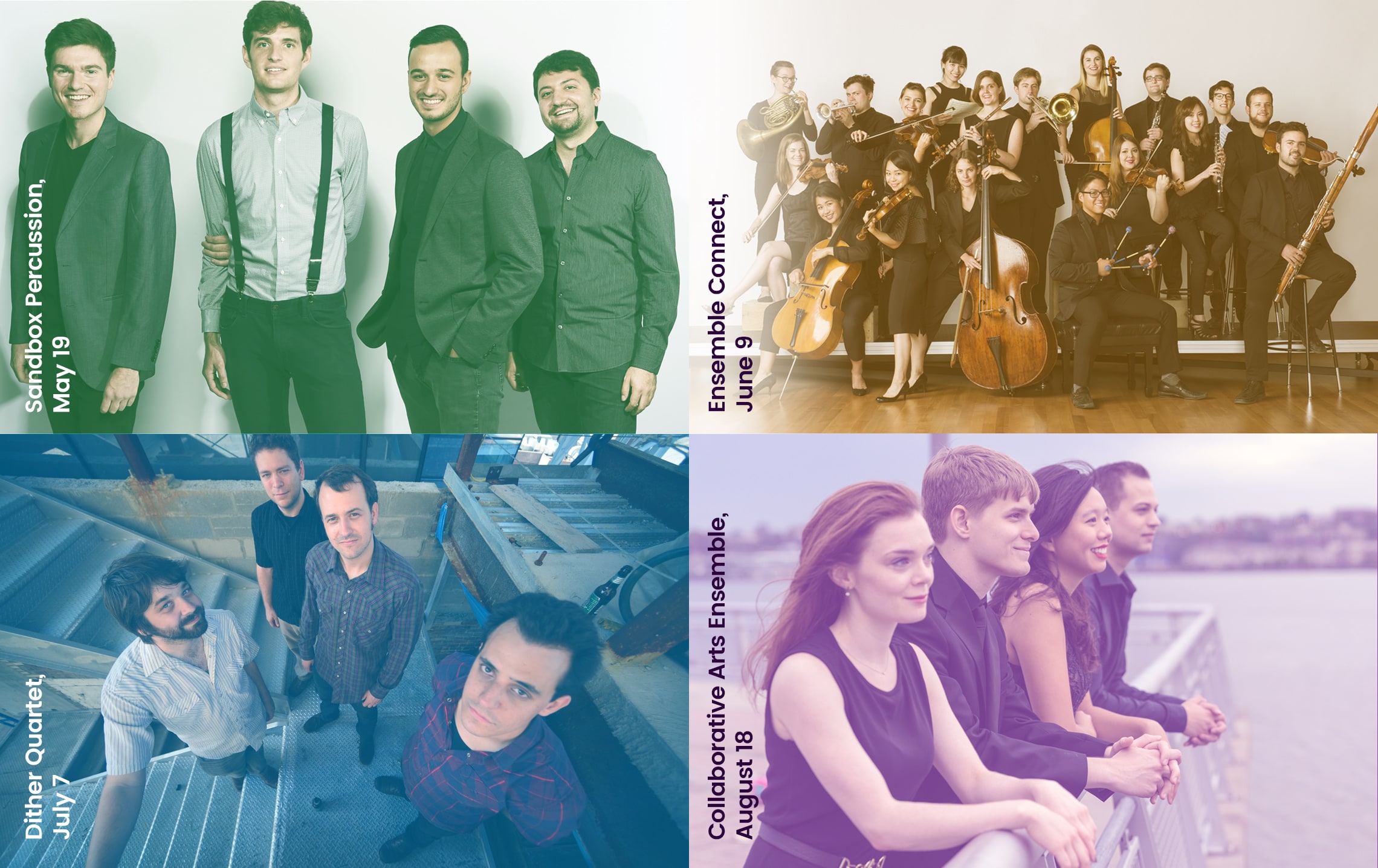 Artistic Directors Blair McMillen & Pam Goldberg present the eighth annual Rite of Summer Music Festival Summer 2018 on Governors Island, NYC featuring Sandbox Percussion; Ensemble Connect; DITHER; Collaborative Arts Ensemble!
New York, NY May 1, 2018
Blair McMillen and Pam Goldberg are thrilled to present the eighth season of the Rite of Summer Music Festival, taking place Summer 2018 on Governors Island, New York City. Rite of Summer will present free outdoor concerts from May through August. In a locale The New York Times has called a "Playground for the Arts," the aim of the Festival is simple: to present the highest quality live performances, and to bring free contemporary classical music to as many people as possible in a
relaxed, fun, outdoor setting.
This season's spectacular line-up kicks off on Saturday, May 19th with Sandbox Percussion performing works of Steve Reich, Andy Akiho, Victor Caccese, Jonny Allen, and Alex Weiser. Next up on Saturday, June 9th is Ensemble Connect including music of Jennifer Higdon, Charles Wuorinen, Osvaldo Golijov, and a New York premiere by Andy Akiho commissioned by Carnegie Hall. On Saturday, July 7th, DITHER performs a program of Eve Beglarian, Josh Lopes, Lisa Renée Coons, Gyan Riley, James Moore, and Taylor Levine. And on Saturday, August 18th, Collaborative Arts Ensemble presents Letters of the American South, music by Samuel Barber, Charles Ives, Johnny Cash, Aaron Copland, Hoagy Carmichael, Henry Mancini, and more.
Rite of Summer shows will be presented twice the same day, at 1pm and 3pm, for each respective date in Colonels Row. Audiences should feel free to walk by, stop and listen, lay down a picnic blanket and relax, eat lunch, mingle, and take in these engaging live performances.
Governors Island is a short 8-minute ferry ride from the Battery Maritime Building in Lower Manhattan, located at 10 South Street (Subway: 1 to South Ferry; R to Whitehall Street; 4/5 to Bowling Green) and a 3-minute ride from Brooklyn Bridge Park, where ferries leave from Pier 6 on weekends only (Subway: 2/3/4/5 to Borough Hall; R to Court Street). Concerts are free; ferries are $3 after 12pm (free from 10am-12pm on weekends). For a full ferry schedule, please visit www.govisland.com.
For more information, visit www.riteofsummer.com. Digital Photos are available upon request.
Season Overview:
Sandbox Percussion May 19, 2018 1pm & 3pm
Ensemble Connect June 9, 2018 1pm & 3pm
DITHER July 7, 2018 1pm & 3pm
Collaborative Arts Ensemble August 18, 2018 1pm & 3pm
Saturday, May 19 – Sandbox Percussion (Rain date: May 20)
Sandbox Percussion
Lauded by The Washington Post as "revitalizing the world of contemporary music" with "jaw- dropping virtuosity," and "a bombshell of raw-talent" by I Care if You Listen, Sandbox Percussion has established themselves as a leading proponent in this generation of contemporary percussion chamber music. Brought together by their love of chamber music and the simple joy of playing together, Sandbox Percussion captivates audiences with performances that are both visually and aurally stunning. Through compelling collaborations with composers and performers, Jonathan Allen, Victor Caccese, Ian Rosenbaum and Terry Sweeney seek to engage a wider audience for classical music.
Last season Sandbox Percussion presented 35 performances throughout the United States. During a tour through California they gave the world premiere of Thomas Kotcheff's percussion quartet not only that one but that one & that too, and were presented on the Festival of New American Music in Sacramento, CA. In collaboration with Ensemble HOWL they gave the world premiere of Amy Beth Kirsten's Quixote at Montclair State University's Peak Performances concert series. During the American Music Festival at the Experimental Media and Performing Arts Center (EMPAC) in Troy, NY, Sandbox gave the world premiere of a concerto by Viet Cuong entitled Re(new)al along with the Albany Symphony. During the festival they also gave a recital which featured works by American composers Steve Reich, Christopher Cerrone, and David Crowell.
In addition to keeping a busy concert schedule Sandbox has also participated in various masterclasses and coachings at schools such as the Peabody Conservatory, Curtis Institute, the University of Southern California, Kansas University, Cornell University, and Furman University. While there they coached students on some of the most pivotal works in the percussion repertoire including Steve Reich's Drumming, György Ligeti's, Síppal, dobbal, nádihegedüvel and John Cage's Third Construction. These teaching experiences have inspired the quartet to pursue a role of pedagogy and mentorship for today's young generation of musicians. This season Sandbox Percussion will present the second annual NYU Sandbox Percussion Seminar. This week long seminar invites percussion students from across the globe to rehearse and perform some of today's leading percussion chamber music repertoire. A culminating performance is held at the iconic Brooklyn venue, National Sawdust.
Most recently has marked the quartet's growing interest in composition. Last season Jonathan Allen's Sonata and Victor Caccese's A Part, Apart were featured on ten separate programs throughout the U.S. Sandbox also worked closely with composer David Crowell on a marimba arrangement of his saxophone sextet, Point Reyes. They gave the world premiere in November 2014 in Brooklyn, NY.
This season Sandbox will collaborate with The Industry, an opera company in Los Angeles, for the world premiere of Galileo , a 90-minute theatre piece by Andy Akiho. Other highlights will include a performance of Jerome Begin's Wilderness in collaboration with the Brian Brooks Moving Company at Choregus Productions in Tulsa, OK, the first ever percussion quartet concert at the Cosmos Club in Washington, DC, a performance of Gyorgy Ligeti's Síppal, dobbal, nádihegedüvel with mezzo-soprano Elspeth Davis at the Percussive Arts Society International Convention in Indianapolis, IN, and a second west coast tour including 11 performances from Seattle to Los Angeles. Sandbox Percussion endorses Pearl/Adams musical instruments, Vic Firth drumsticks and Remo drumheads.  http://www.sandboxpercussion.com/
Member List:
Ian Rosenbaum
Jonathan Allen
Terry Sweeney
Victor Caccese
Program:
Victor Caccese, bell patterns
Jonny Allen, Sonata
Andy Akiho, Pillar IV
Alex Weiser, Anatomy of a Drum Roll
Andy Akiho, Karakurenai
Steve Reich, Drumming
Saturday, June 9 – Ensemble Connect (Rain date: June 10)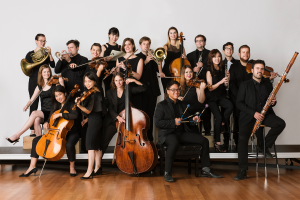 Ensemble Connect
Called "a valuable part of New York's musical fabric" by The New York Times, Ensemble Connect will present a newly commissioned work by renowned composer and virtuoso percussionist Andy Akiho. Written in collaboration with the 2016–2018 Ensemble Connect fellows, Akiho's work will receive its NY premiere at the Rite of Summer Music Festival. Rounding out the adventurous program are contemporary and classical works inspired by summer weather and collective music making.
Ensemble Connect is made up of some of the finest young professional classical musicians in the United States who are taking part in a two-year fellowship program created in 2007 by Carnegie Hall, The Juilliard School, and the Weill Music Institute in partnership with the New York City Department of Education. The program prepares fellows for careers that combine musical excellence with teaching, community engagement, advocacy, entrepreneurship, and leadership by offering them top-quality performance opportunities, intensive professional development, and the opportunity to partner throughout the fellowship with a New York City public school.
https://www.carnegiehall.org/Education/Ensemble-Connect
Performers:
Rosie Gallagher, Flute
Bixby Kennedy, Clarinet
Yoonah Kim, Clarinet
Rémy Taghavi, Bassoon
Nicolee Kuester, Horn
Brian Olson, Trumpet
Oliver Barrett, Trombone
Brandon Ilaw, Percussion
Lee Dionne, Piano
Mika Sasaki, Piano
Rebecca Anderson, Violin
Mari Lee, Violin
Adelya Nartadjieva, Violin
Andrew Gonzalez, Viola
Maren Rothfritz, Viola
Madeline Fayette, Cello
Julia Yang, Cello
Lizzie Burns, Bass
Program to include:
Charles Wuorinen, Spinoff
Osvaldo Golijov, Tenebrae
Jennifer Higdon, Summer Shimmers
Andy Akiho, New Work (NY Premiere, commissioned by Carnegie Hall)
Saturday, July 7 – DITHER (Rain date: July 8)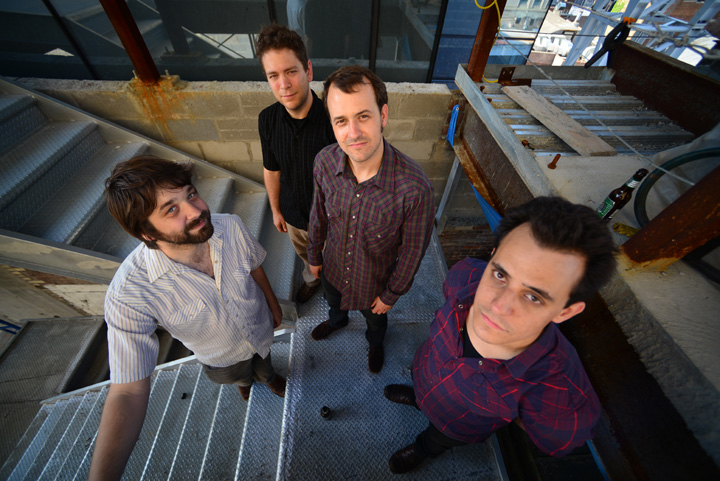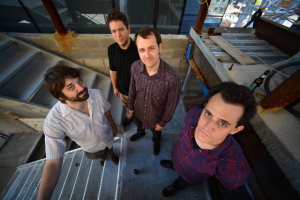 DITHER
DITHER, a New York based electric guitar quartet, is dedicated to an eclectic mix of experimental repertoire which spans composed, improvised and electronic music. Formed in 2007, the quartet has performed across the United States and abroad, presenting new commissions, original compositions, multimedia works, and large guitar ensemble pieces. Dither's members are Taylor Levine, Joshua Lopes, James Moore and Gyan Riley.
Dither has performed and collaborated with a wide range of artists including Eve Beglarian, Nels Cline, Fred Frith, Mary Halvorson, David Lang, Ikue Mori, Phill Niblock, Lee Ranaldo, Lois V. Vierk, Yo La Tengo, and John Zorn. They have brought their live 13-guitar rendition of Steve Reich's Electric Counterpoint to The Barbican Center, Lincoln Center Out of Doors, The Ellnora Guitar Festival and WNYC's New Sounds Live. The quartet has also performed at the Guggenheim Museum, the Bang on a Can Marathon, The Performa Biennial, The Amsterdam Electric Guitar Heaven Festival, Hong Kong's Fringe Theater, The Winter Jazz Festival and the Borealis Festival.
Dither produces an annual Extravaganza, a raucous festival of creative music and art, which has been called an "official concert on the edge" by the New Yorker and "the here and now of New York's postclassical music scene" by Time Out New York. The quartet's self-titled debut album was released on Henceforth Records in 2010 to critical acclaim. Their latest release Dither plays Zorn on Tzadik, featuring the premiere recordings of several of John Zorn's improvisational game pieces, was named one of Rolling Stone's "top avant albums of 2015."
http://ditherquartet.com/
Program:
Eve Beglarian, Garden of Cyrus
Josh Lopes, Dreaming of Vermont
Lisa Renée, Coons Entropion
Gyan Riley, SuperPumperSuperTender
James Moore, Mannequin
Taylor Levine, Renegade
Saturday, August 18 – Collaborative Arts Ensemble – Letters of the American South (Rain date: August 19)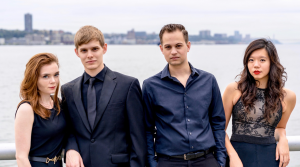 Collaborative Arts Ensemble
Collaborative Arts Ensemble, founded in April 2017, is a collective of world-class interdisciplinary artists dedicated to theatrical concert programs that promote social
understanding in the world, so as to open pathways for community building dialogue in concert halls, community centers, and schools and to reinforce respect, empathy,
and appreciation for all human beings. Every concert created by CAE tells a story: text, music, and physical movement that embody a time in history, a social justice issue, or a specific question. We tell our stories by fusing art forms into one another and celebrating each unique outcome, believing that these collaborations offer our audiences multiple entry points into every story shared.
Our inaugural concert program, Letters of the American South, toured this past September in the state of Georgia, where we gave concerts at venues in three different cities: Cartersville, Jasper, and Macon. Since that time, CAE has been the proud recipients of grant support from the Alan D. Marks Center at The Juilliard School, and NPR's From the Top, and were recently awarded a prestigious residency at Avaloch Music Farm in Boscawen, New Hampshire to create our second touring program. Starting this fall, CAE will be the ensemble-in-residence at Church of the Blessed Sacrament on W 71st between Broadway and Columbus as part of the Arts at Blessed Sacrament program.
https://www.collaborativeartsensemble.com/
Performers:
Thomas West, baritone
Jocelyn Zhu, violin
Victoria Pollack, actress
Matthew Maimone, piano
About this program:
Letters of the American South takes a journey through first-hand stories in the Southern United States (read by Actress Victoria Pollack), placing Southern musical compositions in conversation with poems, letters, and literature from Southern writers. The performance is comprised of an experiential-based presentation where each paired letter and piece of music mark various moments in time, ultimately creating a kind of historical arch. Woven together through the diverse abilities of the performers (all of whom share through more than one discipline), the program brings the beauty and poignancy of these art forms into the room, offering each audience member multiple pathways into the South's collective history and opportunities to explore the truths of a region powerfully shaped by community and conversation.
Program:
Shenandoah, Traditional
Jocelyn Zhu, violin
Matthew Maimone, piano
Excursions, Op. 20, No. 1 (Un Poco Allegro), Samuel Barber (1910-1981)
Matthew Maimone, piano
Moon River, Henry Mancini (1924-1994)
Victoria Pollack, vocals
Jocelyn Zhu, violin
Thomas West, piano
Four Souvenirs: For Violin and Piano, Paul Schoenfield (b. 1947)
Movement I: Samba
Jocelyn Zhu, violin
Matthew Maimone, piano
Memories, Charles Ives (1874-1954)
Thomas West, baritone
Matthew Maimone, piano
Orange Blossom Special, Johnny Cash (1932-2003)
Jocelyn Zhu, violin
The Boatman's Dance from Old American Songs, Aaron Copland (1900-1990)
Thomas West, baritone
Matthew Maimone, piano
Beautiful Dreamer, Stephen Foster (1826-1884)
Thomas West, baritone
Jocelyn Zhu, violin
Hallelujah, Traditional (Arr. MaMuse)
Thomas West, vocals
Jocelyn Zhu, vocals
Matthew Maimone, vocals
Victoria Pollack, vocals
Georgia on my Mind, Hoagy Carmichael (1899-1981)
Thomas West, baritone & piano
Victoria Pollack, dance
Hard Times Come Again No More, Stephen Foster (1826-1864)
Thomas West, baritone
Jocelyn Zhu, violin
Matthew Maimone, piano
Victoria Pollack, vocals
*Texts being read by:
Emma Lazarus (1849-1887)          Harper Lee (1926-2016)
Robert Creeley (1926-2005)          Brené Brown (b. 1965)
Eudora Welty (1909-2001)
Marilyn Allerton (unknown)
---
Press Contact
Alanna Stone
[email protected]
917-359-4449