Grand Band
Nolan Park
1:00PM & 3:00PM
Saturday, May 21, 2022
Rite of Summer does not require tickets or reservations.
Ticket reservations are recommended for the Governors Island ferry. Please note that masks continue to be required while boarding, riding, and disembarking. View the schedule, get more information, and reserve your tickets at govisland.com.
Program
Julius Eastman: Gay Guerilla (1979)
Paul Kerekes: bloom (2016)
Erika Dohi: (world premiere)
Philip Glass (arr. Paul Kerekes): Music in 12 Parts, Part 9 (1971-74)
Performers
Erika Dohi
David Friend
Paul Kerekes
Blair McMillen
Lisa Moore
Isabelle O'Connell
New York Keys
The New York City piano sextet Grand Band returns to the stage – presenting works by four New York composers, including a world premiere by Grand Band member Erika Dohi, and, for his 85th birthday celebration, an original arrangement of Philip Glass's Part 9 from his groundbreaking Music in Twelve Parts. Repertoire classics by Julius Eastman (Gay Guerilla) and Paul Kerekes (bloom) round out this audacious, powerhouse program. Don't miss Grand Band, an ensemble The New York Times calls "a kind of supergroup.
About Grand Band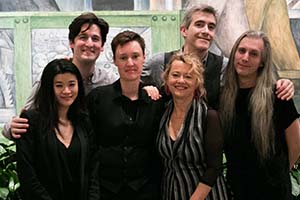 GRAND BAND is the only professional piano sextet in the United States. It features six of New York City's top pianists – Erika Dohi, David Friend, Paul Kerekes, Blair McMillen, Lisa Moore, and Isabelle O'Connell. The ensemble has been described by The New York Times as "a kind of new-music supergroup" and "the Traveling Wilburys of the city's new-music piano scene". This stunning collection of performers creates a powerful sonic force. A modern and unconventional troupe, Grand Band champions new music and living composers, as well as orchestral arrangements that bring the unique power of the six-piano instrumentation to the fore.
Their recent commissions include new works by composers Michael Gordon, Paul Kerekes, Missy Mazzoli, Harriet Steinke, and Ben Wallace. Grand Band repertoire also includes original piano sextet works by David Lang, Philip Glass, John Metcalf, Kate Moore, Steve Reich, Kevin Volans, Julia Wolfe, and emerging UK composers Nathan Dearden, William Marsey, Lucy McPhee, and David Roche. For sold out shows in 2017 Grand Band added arrangements of popular classics to their repertoire – works by Modeste Mussorgsky (Pictures at an Exhibition), Gustav Holst (The Planets) and Leonard Bernstein (West-Side Story Symphonic Dance Suite). Broadcast regularly on New York's WQXR's Q2 radio, Grand Band has performed at the Bang on a Can Marathon, (le) poisson rouge, Liquid Music Festival, Gilmore International Keyboard Festival, Detroit Institute of the Arts, Lansdale Community Concerts (PA), Rite of Summer Festival (NY), Sheffield University, Cornerstone Festival Liverpool England as well as the Vale of Glamorgan Festival in Cardiff, Wales.
Grand Band is supported by Steinway New York.
Note: In the event of poor weather conditions, all concerts will be re-scheduled for the following day, Sunday at 1 and 3PM. Please check our website for this updated information. 
Upcoming Events
Check back soon for more events.