Dither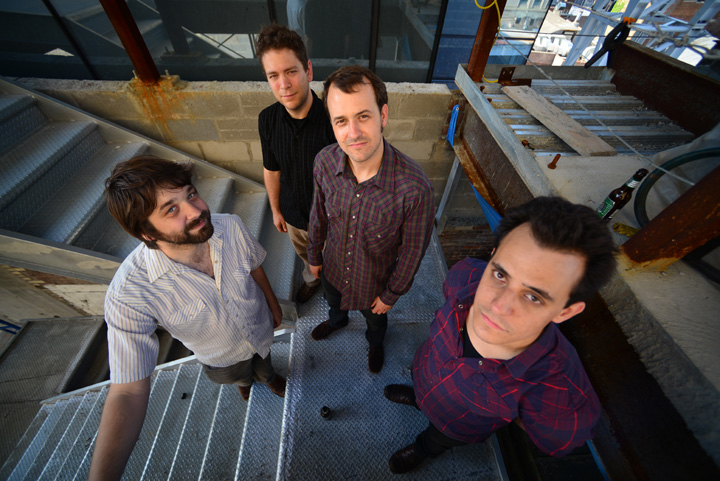 Colonels Row
1:00PM & 3:00PM
Jul 7, 2018
DITHER, a New York based electric guitar quartet, is dedicated to an eclectic mix of experimental repertoire which spans composed, improvised and electronic music. Formed in 2007, the quartet has performed across the United States and abroad, presenting new commissions, original compositions, multimedia works, and large guitar ensemble pieces. Dither's members are Taylor Levine, Joshua Lopes, James Moore and Gyan Riley.
Dither has performed and collaborated with a wide range of artists including Eve Beglarian, Nels Cline, Fred Frith, Mary Halvorson, David Lang, Ikue Mori, Phill Niblock, Lee Ranaldo, Lois V. Vierk, Yo La Tengo, and John Zorn. They have brought their live 13-guitar rendition of Steve Reich's Electric Counterpoint to The Barbican Center, Lincoln Center Out of Doors, The Ellnora Guitar Festival and WNYC's New Sounds Live. The quartet has also performed at the Guggenheim Museum, the Bang on a Can Marathon, The Performa Biennial, The Amsterdam Electric Guitar Heaven Festival, Hong Kong's Fringe Theater, The Winter Jazz Festival and the Borealis Festival.
Dither produces an annual Extravaganza, a raucous festival of creative music and art, which has been called an "official concert on the edge" by the New Yorker and "the here and now of New York's postclassical music scene" by Time Out New York. The quartet's self-titled debut album was released on Henceforth Records in 2010 to critical acclaim. Their latest release Dither plays Zorn on Tzadik, featuring the premiere recordings of several of John Zorn's improvisational game pieces, was named one of Rolling Stone's "top avant albums of 2015."
Program
Eve Beglarian – Garden of Cyrus
Josh Lopes – Dreaming of Vermont
Lisa Renée Coons – Entropion
Gyan Riley – SuperPumperSuperTender
James Moore – Mannequin
Taylor Levine – Renegade
Performers
Taylor Levine, electric guitar
Joshua Lopes, electric guitar
Gyan Riley, electric guitar
James Moore, electric guitar
Learn more about Dither here.
Note: In the event of poor weather conditions, all concerts will be scheduled for the following day, Sunday at 1 and 3PM.
Upcoming Events
Check back soon for more events.